* * *
* * *
* * *
* * *
We are thrilled to announce that 2000 is the fourth year that Why Buy The Cow? entertainment company has been selected to develop a new play for the Fringe of Toronto Festival® -- and are we having a great time putting it together for you!
"The Sorceress" is a play with music, where the actors become the musicians and the sweeping of a broom or the snapping of fingers become the music. It's comply or fry for Lucinda Lalonde (Mary Claire Thompson) when she moves to a small town with an odd history of burning women at the stake. Throw in a little hocus pocus and small town superstition and things begin to heat up! This is our most innovative and ambitious presentation yet, combining a large cast with choreography, a cappella singing and unique percussion segments created by Heather Richardson. This musical romp is intended to delight audiences of all ages.

WHO'S WHO???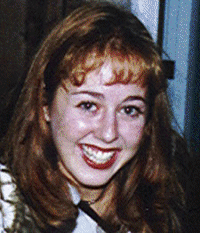 Meet the 11 cast members and the rest of the crew involved in the production of "The Sorceress".

20 QUESTIONS
Intimate interviews with the cast and crew of The Sorceress. View this site to see who is in the hot seat this week.

Just who is Why Buy The Cow? entertainment company anyhow?

Follow us on our journey developing "The Sorceress". For those who wondered what it is like preparing for a theatre festival.

Pictures, clippings, snaps and other stuff.

Got a question? Comments on our show? What do you think of our website? Do you recommend any great Fringe shows this year?
Fill out our feedback form. See if your thoughts are posted. See if your questions are answered. Leave your name... if you dare!

Some links to our favourite friends, companies and sponsors!